Smaller Items
Delivered by DPD
Free next working day delivery when you spend over £50. We use the award winning DPD (voted best delivery company, Which! October 2014) as our courier of choice, with a one hour delivery window available when you provide a mobile number or use the DPD app. Service available Monday to Friday (excluding public holidays) to most mainland UK addresses for in stock items ordered before our cut-off. Terms apply.
DPD Next working day delivery is available on smaller flatpack items such as Bink and Milo. Please see basket for delivery options after selecting your items.
Flatpack Desks/Tables
Some smaller flatpacked desks and tables will be shipped via TNT (or similar), they may arrive on a pallet to you. This service may arrive next day, but can take 2-3 days.
Cabinets/Large Furniture
Specialised Arranged Delivery
Free, convenient and careful bespoke service. When you place your order, stock will be immediately reserved for you. Our friendly dispatch team will then contact you to make arrangements for delivery.
To ensure everything goes to plan, we use our own drivers as part of a two person team to bring your new furniture into your home. We'll move it to a room of your choice and unpack for you. Terms apply.
As an optional extra, we can also perform any minor assembly work for cabinets, such as attaching foot frames and handles if required.
This service is available to the areas highlighted on the map below. For delivery outside of these areas, please contact us for pricing and availability.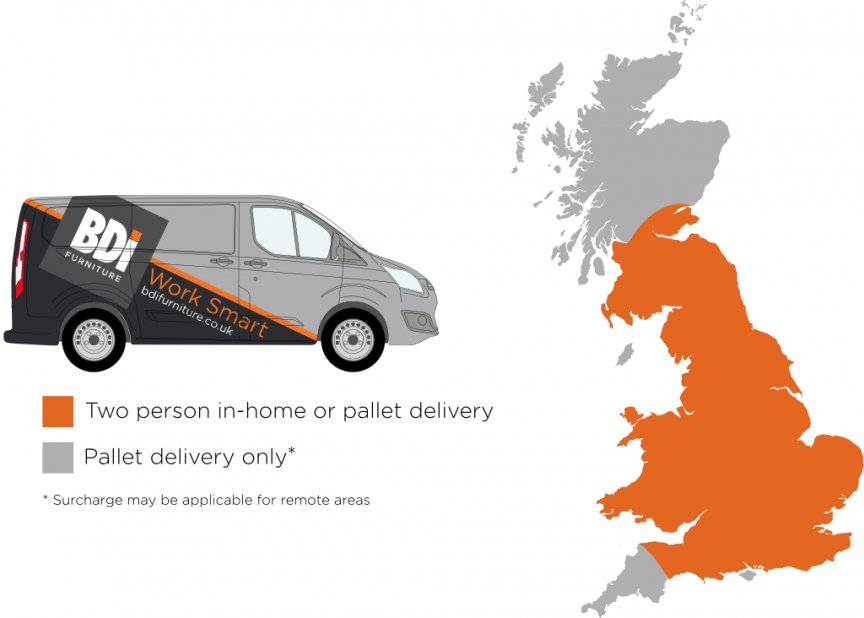 Pre-orders and Back-orders
For items not currently in stock you may pre-order or back-order from us. Well keep you informed throughout with estimated delivery times.
We can deliver standard sized items to all postcodes. Additional charges may apply.
Delivery to Alternate Addresses
We take the security of your orders and payment details seriously. As part of our policy of actively tackling fraudulent transactions, some limitations exist for deliveries to alternate addresses.
For card payments, we can deliver to the cardholder's address or alternatively to a work address.
For finance purchases we can only deliver to the named applicant's home address.
Delivery to Other Destinations
We don't currently deliver any items:
outside of the United Kingdom
to Northern Ireland
to the Channel Islands
Exports and Taxes
Our prices are in GBP and include UK VAT.
We do not export goods. If you choose to export yourself, you may be liable to pay import duties and other taxes if you import goods into your country. We are unable to offer tax advice or adjustments.
We do not participate in the Retail Export Scheme, this scheme doesn't apply to mail order goods, including internet sales.
---
More Information
Stock information policy - Read more about how we describe stock availability on this website.
Office closure and non-dispatch dates - Upcoming public holidays and other events affecting our services.
This page contains a summary of the important parts of our delivery policy, full details can be found in our terms and conditions.